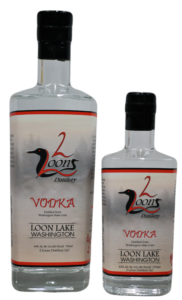 A very versatile vodka. Exceptionally smooth and surprisingly sweet, 2 Loons Vodka can be whatever you want it to be – a dependable foundation for martinis and cocktails or a sophisticated sipper poured over ice.
Made from 100% Washington corn
Carbon filtered for smooth finish with a hint of sweetness
All of our products are hand crafted and in limited quantities. Please contact us to learn about our current availability.
Need a drink idea? Browse our vodka recipes.