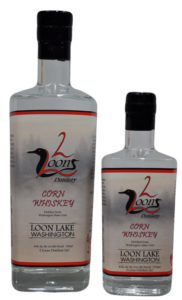 A bold and raw whiskey. 2 Loons White Corn Whiskey is handcrafted in small batches using Washington grains. The corn-heavy mash results in a crisp and complex mosaic of flavors delivering a unique drinking experience. This was meant to go in a barrel, but we liked it so much straight from the still, we barreled half and bottled the rest unaged.
Made from 100% Washington corn
Unaged to produce a sweet and smooth malt flavor
All of our products are hand crafted and in limited quantities. Please contact us to learn about our current availability.
Need a drink idea? Browse our whiskey recipes.