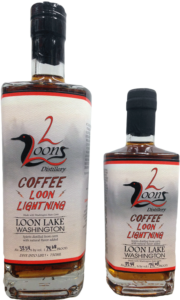 Coffee Loon Lightning pairs the natural sweetness of Washington corn with warm notes of toffee and caramel from local Roast House Café de America's cold-brewed coffee. This rich spirit can be enjoyed on its own or is especially nice with a dash of cream or Chai Tea.
All of our products are hand crafted and in limited quantities. Please contact us to learn about our current availability.
Need a drink idea? Browse our Coffee Loon Lightning recipes.