Our objective is to offer high quality, craft-distilled spirits that can be enjoyed on their own or mixed.  All of our artisan spirits are made locally in small batches with local Washington fruits and grains.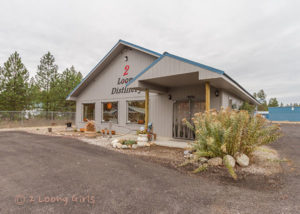 2 Loons in Loon Lake. Founded in 2014, 2 Loons Distillery is a craft distillery offering high-quality, small-batch spirits made locally in Loon Lake, Washington. We have lived in Loon Lake since 2002 (although Trisha's family has had a cabin on the lake since 1972) and raised our children here. It has been a wonderful experience for them to grow up on the lake. We love the small community and the close proximity to Spokane. Summer is our favorite season, but we also love the quiet and peaceful winters. As the area grows, we look forward to becoming a tourist attraction for people to enjoy a tour or taste and grab a bottle of spirits for their local activity. There are a couple of breweries and one other distillery between here and Colville and someday we hope to have a "loop" for people to visit all of our locations as a destination!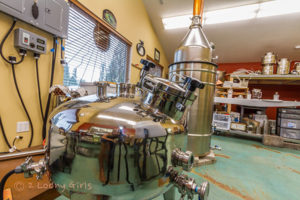 How we got started.  In 2011, we participated in a local distiller's bottling party and fell in love with the art of distilling. At the time, we were looking for a new business idea that would enrich us as we send our kids off to college and enjoy our home in Loon Lake. We decided to dive in head-first and participated in a week-long craft distillery course in Western Washington.  WE LOVED IT. It was the perfect way to channel our creativity, meet lots of new people, and challenge ourselves. Since taking that course, we've been purchasing equipment, researching, and experimenting. (Legally, of course!)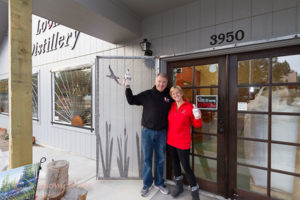 Why we love what we do. We love creating something and sharing it with others. We also both love cooking, and well, distilling can be a bit like cooking – only with booze! The work is challenging and there is a huge learning curve, so we feel a great sense of satisfaction after finishing a batch. We also love owning our own business and having the flexibility to alter our schedules. Top that off with all the great people we meet along the way, there's no question that we are doing exactly what we're meant to do.
Currently, we only sell out of our tasting room. In addition to our spirits, we have t-shirts, sweatshirts, hats, shot glasses, and tumblers for sale. In the future, we look forward to selling to local restaurants, bars, and stores.